The term Tibet here means the whole of Tibet known as Cholka-Sum (U-Tsang, Kham and Amdo). It includes the present-day Chinese administrative areas of the so-called Tibet Autonomous Region, Qinghai Province, two Tibetan Autonomous Prefectures and one Tibetan Autonomous County in Sichuan Province, one Tibetan Autonomous Prefecture and one Tibetan Autonomous County in Gansu Province and one Tibetan Autonomous Prefecture in Yunnan Province.
Land Size: 2.5 million square kilometres, which includes U-Tsang, Kham and Amdo provinces. "Tibet Autonomous Region", consisting of U-Tsang and a small portion of Kham, consists of 1.2 million square kilometres. The bulk of Tibet lies outside the "TAR".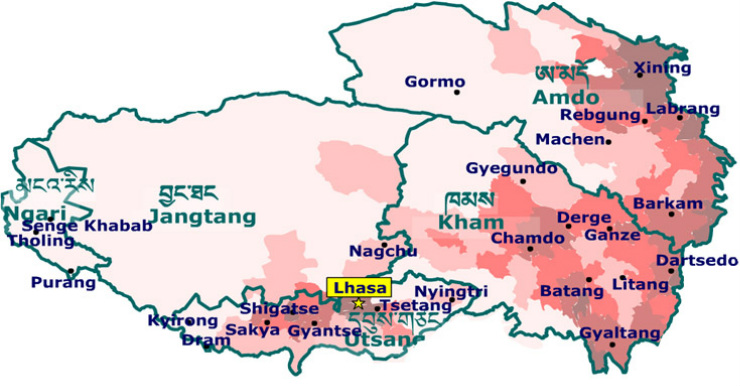 Average Altitude: 3500 – 4,000 meters or 13,000 feet above sea level.
Administration: Tibet is divided into the following administrative units: a) Tibet Autonomous Region, b) Qinghai Province, c) Tianzu Tibetan Autonomous County and Gannan Tibetan Autonomous Prefecture in Gansu Province, d) Aba Tibetan-Qiang Autonomous Prefecture, Ganzi Tibetan Autonomous Prefecture and Mili Tibetan Autonomous County in Sichuan Province, e) Dechen Tibetan Autonomous Prefecture in Yunnan Province.
Population: The total Tibetan population in Tibet is 6 million. Of them, 2.09 million live in the "TAR" and the rest in the Tibetan areas outside the "TAR".
Religions: Tibetan Buddhism, Bon (the indigenous religion of Tibet), and Islam (practiced by a number of different minority groups and only a handful of ethnic Tibetans)
Major Rivers: Yarlung Tsangpo (Brahmaputra in India), Machu (Yellow River in China), Drichu (Yangtse in China), Senge Khabab (Indus in India), Phungchu (Arun in India), Gyalmo Ngulchu (Salween in Burma) and Zachu (Mekong in Thailand, Vietnam, Cambodia, Laos).
Native Wildlife: Tibetan antelope, wild yak, wild ass and Tibetan argali, blue sheep, black-necked crane, Tibetan gazelle, giant panda, red panda and golden monkey ect.
Economy: Agriculture and animal husbandry.
Traditional cuisine: roasted barley flour (tsampa), steamed dumplings (momo), noodle soup (thukpa), yak meat, goat meat, mutton, jerky, potatoes, yak yogurt (sho), butter and cheese.
Climate: Warm in the summer (avg. 28C), cold in the winter (-15C), and extremely dry (except during the rainy season in July and August)
Main crops: barley, wheat, buckwheat, rye, potatoes, and assorted fruits and vegetables
Main livestock: sheep, cattle, goats, yaks, dzo, horses, and camels
Literacy Rate: Approximately 25 per cent.
U-Tsang
U-Tsang covers the larger portion of Tibet Autonomous Region. It is the cultural heart of Tibet which occupies the upper reaches of the Bharmaputra Valley, it has some of Tibet's biggest farming lands and agricultural communities, as well as monasteries and temples of historic importance. Lhasa, the capital city of Tibet lies on the Kyichu River. Gyangtse and Shigatse are on the Nyangchu river, Tsetang on the Yarlung River and Kongpo on the Gyamda Nyangchu river.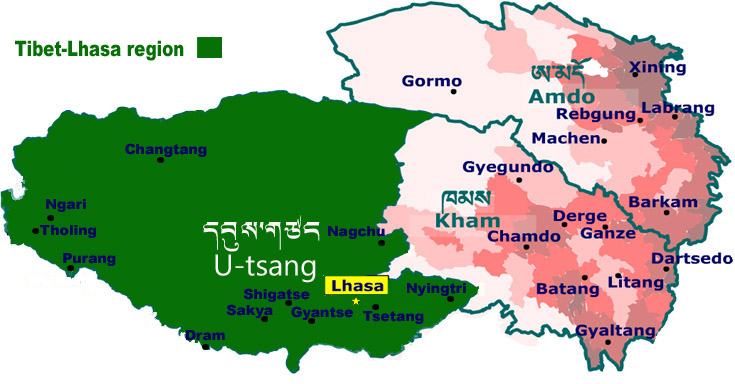 The high land of Utsang is bordered by great Himalayan range including Mount Everest, to the south, all the way to Nyingtri, in the forested eastern region of Tibet. Tibet has the Himalayan range surrounded on the plateau and the enchanting mien of the south country. Where as the integration of Mother Nature with cultural sceneries has given Tibet a real special charm in the eyes of tourists.
Till today, there is still a big gap between the living traditions and customs of many Tibetans and that of the modern people outside the plateau. It is just because the gap that everything in Tibet is worthy of viewing, there were more than 5000 monasteries alone in the most booming period of history, as well as many palaces, holy lakes, snow capped mountains, ancient tombs, castles, and ancient steles.
The far west of Tibet is called Ngari and is the least populated part of Tibet. It comprises the great Changthang plateauan as well as the sacred Mount Kailash(6714m). Rakas and Manasarovar Lakes, Tholing monastery, and the ruins of the Guge Kingdom, Dungkar Peyang etc are found in this area.
Amdo- ཨ་མདོ།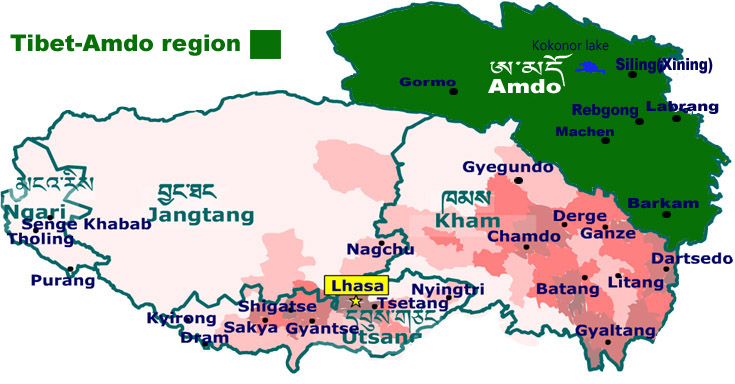 Amdo is one of the three traditional regions of Tibet, the other two being -To Utsang and Kham. Amdo encompasses a large area along the Machu River (Yellow River). The traditional Amdo region falls into Gansu, Sichuan and Qinghai provinces. Today, ethnic Tibetans predominate in the western and southern parts of Amdo, which are now administered as various Tibetan autonomous prefectures. The region also includes one Tibetan autonomous county, Tibetan-Gyarong autonomous prefecture, and Mongol-Tibetan autonomous prefecture. Many people in this area are nomads. The people in this area are very friendly and you will always be welcomed for a visit in a nomad tent and remote monasteries throughout Amdo region.
The Tibetan cultural sphere of Amdo is one of the most important and varied within the Tibetan Plateau. The region of Amdo is distributed mainly in the Chinese province of Qinghai, with smaller, but relevant parts in Gansu and Sichuan. Amdo is roughly the northeastern part of ethnic Tibet; it encompasses the section from the Yellow River northeastward to Gansu province in China. Amdo was and is the home of many important Tibetan Buddhist monk teachers or lamas) who had a major influence on both politics and religious development of Tibet, like the great reformer Tsongkhapa, the Dalai Lama as well as the 10th Panchen Lama. It is, therefore, a region spotted with many Buddhist monasteries – with Kumbum Jampa Ling (Chin. Ta'er Si) near Xining, Rongwu Gonchen in Rebkong, Kriti Gonpa in Ngawa, Serta Labrang Gonchen and Labrang Tashi Khyil south of Lanzhou being among the most famous and important within the Tibetan cultural realm.
Kham and Amdo are new frontiers for adventure travellers, a place where one can find unclimbed summits, galloping horsemen, old-growth forest, snow capped mountains and pilgrimage paths and undiscovered monasteries where no foreigner has set foot for many years.
Kham- ཁམས།
Kham is the Tibetan name for the eastern third of the Tibetan plateau. Kham comprises a total of 50 contemporary counties, distributed between the Chinese provinces of Sichuan (16 counties), Yunnan (3 counties), and Qinghai (6 counties) as well as the eastern portion of the Tibet Autonomous Region (25 counties). While the culture and history of Kham are closely connected to those of central Tibet, the region has many special features. Kham has a rugged terrain characterized by mountain ridges and gorges running from northwest to southeast. Numerous rivers, including the Mekong, Yangtze, Yalong Jiang, and the Salween flow through Kham. The people of Kham, known as Khampas are known for their warlike spirit and rich culture.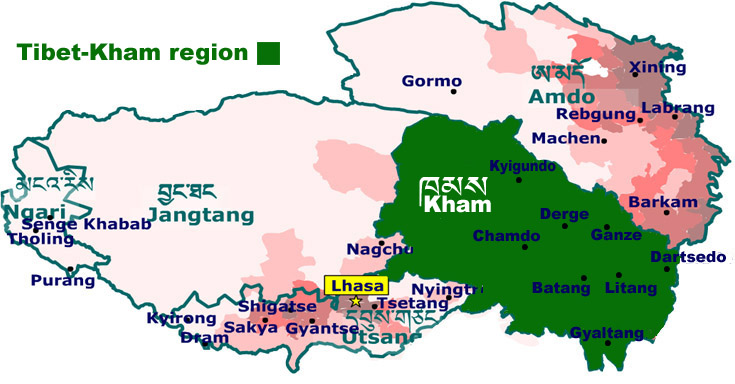 Its climate, geography, flora and fauna all lend it a unique, almost magical atmosphere. Geographically the region varies from subtropical low-lying jungle, to the glaciated peaks of Namche Barwa (7,756m) or Kawa Karpo and the grasslands of northeastern Tibet. At its eastern end, the headwaters of some of Asia's greatest rivers tumble off the Tibetan plateau, carving a dramatic concertina landscape of deep gorges and remote valleys. Kham largely incorporated into the Chinese provinces of Sichuan, Yunnan, Qinghai and U-Tsang.
The easternmost region of Tibet is more densely populated than the central plateau. The inhabitants are different from other Tibetans, not only in their colorful attire and striking physiques, but also in dialect and custom. The Kham region is rugged and densely forested in palaces with many gorges, four rivers and six ranges through Kham area. Snowy capped mountains, numerous lakes as well as vast grasslands. Home to ancient kingdoms of Tibet warriors and two incarnations of Dalai Lama lineages. The old trade routes between China and Tibet start from Dratsedo, in this region also offers colorful Horse festivals among Tibet, which attracting more and more oversea travelers. So Kham region offers the best one Tibet has. Sights include Keldan Jampaling monastery in Chamdo, Derge Pringting house, Jyekundo Mani stone pile, Ganze monastery, Lithang and Shangri-la, also alpine lakes and wild mountains of Kawakarpo or Minyagongkar and Namche Barwa etc.